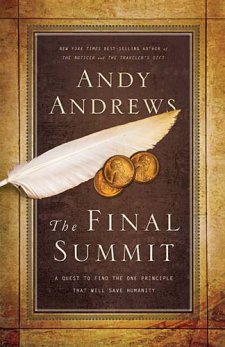 The Final Summit by Andy Andrews is an interesting read. It is the story of a man named David Ponder, a character that Andy first introduced us to in the book "The Traveler's Gift." Humanity is on a collision course towards destruction and it is up to David Ponder with the help of other "travelers," the likes of which include Joan of Arc and Winston Churchill amongst others to discover what it will take to save earth and all of humanity from a terrible and irreversible fate. With only a limited amount of time, and only five chances to discover the two word solution David Ponder and his fellow travelers from throughout history have their work cut out for them.
I wasn't sure if I was going to like this book. It started out on such a way that I was sure this was going to be some hokey drivel. But I pushed forward. It was slow going. Eventually it sped up a bit and I found it to be pretty entertaining. There were other points when it was a bit slow. But all in all it was a good read. It was highly imaginative and creative and full of historical facts weaved throughout.
I'm not sure that I would read it again. It was a good book, but not a great book. However, if you are on the hunt for a new book to read it may be just what you're looking for.

I am a member of Thomas Nelson's Book Reviewer Blogger Program Book Sneeze. I received a copy of this book free of charge in order to review it. I was not paid for this review. I also was not required to give a positive review, but to give my honest opinion of what I felt about the book. Whether positive or negative, this is my honest opinion of this book.
Copyright © 2011 Haneefah Turner. All Rights Reserved.