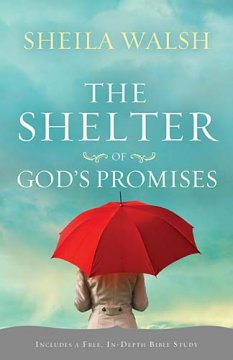 Sheila Walsh's The Shelter of God's Promises Book Review


I thought that the book "The Shelter of God's Promises" by Sheila Walsh was a very good book. This book is about learning about the promises that God has made to us and how to apply them to our lives. I especially liked the chapter on "Love" and the teaching about the Woman with the issue of blood from the Bible. As well as the chapter about "Hope."

I believe that many women will learn and gain so much by reading this book. It's really very beautiful. We know as believers that there are many promises made to us by God in His word for us to claim. But sometimes we feel they aren't meant for us and that we are alone. If you need to be encouraged in the Lord and wish to learn and study more about the promises of God, you need to get this book.

There is even a short Bible study guide in the back of the book that will help you to do a more in depth Bible Study. There is even a DVD based Bible Study based on the book, which you must buy separately . They are not a set. So if this sounds good to you, and I hope it does because I was blessed by it, then run out and buy this book today!


Lord bless you!


Copyright © 2011 Haneefah Turner. All Rights Reserved.
I am a member of the Thomas Nelson Book Review Blogger Program "BookSneeze". I received a copy of this book free of charge in order to review it. I was not paid for this review. I also was not required to give a positive review, but to give my honest opinion of what I felt about the product. Whether positive or negative, this is my honest opinion of the product.