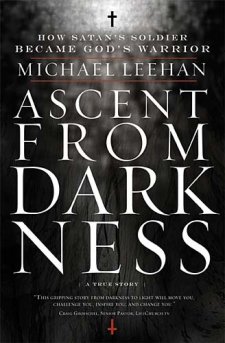 All I've got to say about this book is wow, wow, WOW! Evil is so real and the effects can be so devastating. But God is far greater and powerful than Satan. God will always put a stop to evil. It can never prevail.

Ascent From Darkness is the story of one man's descent into Satanism and God's relentless pursuit to bring him from darkness into the Light. For twenty years, Michael Leehan was a slave to Satan. He experienced things that most people don't want to think about, or even believes is real or could be true. But, it's all true.

After years of feeling like darkness was always right on his heels he decided to give into it and become a satanist. That tragic decision caused Michael to go into such a downward spiral that no one thought that he would ever be free…including himself. But God had other plans so great, that not only did he pull Michael out of Satan's death grip, but He saved him to be a witness of His great and everlasting love, mercy and grace. As well as a living, breathing example of how nothing is too big for Him.

God saved Michael Leehan not only from a life of pain, misery, suffering, constant turmoil and an eternity in Hell. But, He turned Michael's life completely around and turned a foot soldier for Satan into a soldier for Christ!

This is an amazing testimony of God's goodness. We live in an age where people readily deny that there is even a devil, though evil is all around us. He's written off as so much fiction; a delusion of weak minded individuals. But, evil is real and so is the creator of it — Satan.

I am so glad that I read this book. I almost didn't. There was another book that I wanted, but there were no more books available to review. Then I read the description of Michael Leehan's book and I knew that I had to check it out. But once I ordered the book it got lost in the mail and I had to wait for a new copy! It seems like someone didn't want me to read it. But, I finally got my review copy and it was excellent. It was certainly worth the frustration of trying to obtain it in the end.

I've read a little about spiritual warfare long before this book ever came to my attention. Every Christian should. You should read this book not only to learn about this man's extraordinary life and testimony of how Satan tried to destroy him, but God saved him. But to gain an understanding of just how much more prevalent evil is than most people think. I wasn't surprised about anything in this book. I believe that he speaks the truth.

The Bible tells us that Satan comes to steal, kill and destroy. That's his sole mission in this world. All around us, unseen to the naked eye, is a spiritual war for the souls of men and women everywhere. Satan fights daily to rip you from God; to obtain your soul and put you up on a mantle as a trophy of how he stole one more soul from Christ. He hates God and so he hates us who are made in the image of God. And his sole purpose is to take you out and destroy you.

Everyone needs to read this book. It will change your perception of many things, if not your life. That's not hype. If you are teetering on the edge of whether or not to serve Christ, this just may be the book that will help you to find the Light. Nothing is too big for God and no sin is so great that God can't save you. I don't care what it is you've done in this life. If God can save Michael Leehan and change him so radically for His own glory, He can surely do it for you, me and everyone. Amen!

If you can get only one book this year this book needs to be it. Give copies to friends and family. The saved and the unsaved. I guarantee you that once you read this book that how you look at the world and spiritual warfare, will never be the same. God is so good. His grace and mercy is astounding. His love is limitless. I just love Him!

You've got to buy this book. I believe that you will not regret it. I give this book five (*****) stars. Which is something that I rarely do! Enjoy!


Haneefah Turner Copyright©2011 All Rights Reserved. Do not reprint this review in any form without my permission. Please respect my copyright. Thank you. God bless you!


I am a member of the Thomas Nelson Book Review Blogger Program "BookSneeze". I received a copy of this book free of charge in order to review it. I was not paid for this review. I also was not required to give a positive review, but to give my honest opinion of what I felt about the product. I am disclosing this in accordance with the Federal Trade Commission's 16 CFR, Part 255. Whether positive or negative, this is my honest opinion of the product.