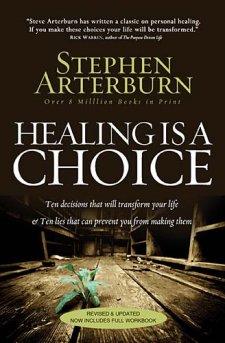 Healing Is a Choice by Stephen Arterburn is a book about choosing to become well from physical, mental, emotional, and spiritual wounds. We have all experienced pain. Some more than others. Many people live shell shocked lives. Still suffering, and even acting out emotionally due to things that have happened to them years ago.

It's like being stuck in a time warp with no understanding of how to be free. Often times we pray and pray to be free. But, when God doesn't move the mountains out of the way we decide to just live with them. We don't search to find out how to learn to get free. This must be God's will we tell ourselves. But that's not true. It's not God's will. You must choose to heal and let go. When you do that God can help you become whole.

Stephen Arterburn shows you what you need to do to begin to heal and begin the process of letting go so that God can work. But the first step begins with you. This edition of "Healing Is a Choice" is a new special revised and updated edition. First released in 2005 with over 8 million copies sold, this edition now includes a full workbook to help you work your way back to a place of healing and wholeness.

I've not read all of this book. I wanted to take my time with it. But from what I have read I can see the potential to help people. The workbook is full of a lot of thought provoking questions that help you get to the root of your problems so that you can finally get the healing that you need, whether it is physical, mental, emotional, spiritual or all of the above. I believe that this book could be a real help to anyone looking to be made well again.

Give this book a try. It just may be exactly what you are looking for. And just the thing to get you on the path to being the person God has not only called, but created you to be. You don't have to hurt. This book may just help you to finally learn how to stop the pain and finally heal. The choice is yours.

I think this is a good book. I give it 3 stars.

God bless you all.


Haneefah Turner Copyright © 2011 All Rights Reserved. Please do not reprint this review in ANY form without my permission. Thank you


I am a member of the Thomas Nelson Book Review Blogger Program "BookSneeze". I received a copy of this book free of charge in order to review it. I was not paid for this review. I also was not required to give a positive review, but to give my honest opinion of what I felt about the product. I am disclosing this in accordance with the Federal Trade Commission's 16 CFR, Part 255. Whether positive or negative, this is my honest opinion of the product.