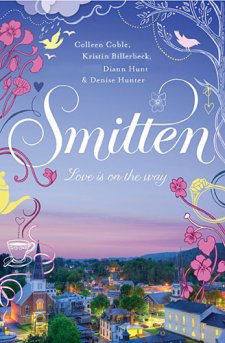 When the lumber mill closes in the town of Smitten, Vermont fear sweeps the townspeople at the possibility that their town may be unable to survive without its main employer. That is, until four friends, Natalie, Julia, Shelby and Reese, come up with a plan to use the town name, Smitten, to its advantage. Why not turn it into a resort town for "Smitten" lovers? The friends devise a plan to fill the town with romantic music in the town square, a high-end spa, cabins with hot tubs and fireplaces, sweets shops and more.

The girls soon get help from Country singer Sawyer Smitten who intend to have his wedding in his old hometown on Valentine's Day. Eventually the women start looking to fill their own lives with love.

If you like romance this is the book for you. "Smitten" is a group effort written by real life best-friends Collen Coble, Kristen Billerbeck, Diann Hunt and Denise Hunter. The story is broken into four parts, each story focusing on one character as the story as a whole progresses. An "interconnected novella." In each section you get to know more about the characters as people as they deal with the closing of the mill, the efforts to revitalize the town, and overcoming their own struggles and bring love into their own lives.

This is a good, fun read. It was fast-paced ( a big plus for me if you've read my other reviews), you will really connect with the characters and root for them. I love it when I read a book that's so good you don't want it to end. This is one of those books. I believe that you will like it. I couldn't find much wrong here. And you know I have no problem with telling you the real deal.

There is also an interview with the authors as they discuss the book as well as their friendship. As well as a Reading Group Guide and recipes.

If this sounds good to you, why not pick up your own copy today! I give the book 4 stars.


Haneefah Turner Copyright © 2011. All Rights Reserved. Please do not copy or distribute this article with permission. Thank you.


I am a member of the Thomas Nelson Book Review Blogger Program "BookSneeze". I received a copy of this book free of charge in order to review it. I was not paid for this review. I also was not required to give a positive review, but to give my honest opinion of what I felt about the product. I am disclosing this in accordance with the Federal Trade Commission's 16 CFR, Part 255. Whether positive or negative, this is my honest opinion of the product.