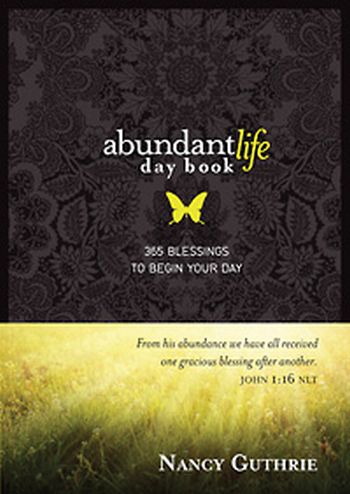 "The Abundant Life Day Book: 365 Blessings To Begin Your Day" by Nancy Guthrie is a book of short devotionals to begin your day with. The book is written in such a way so that it seems as if the Lord is speaking to you. The devotionals were very thought provoking and encouraging and is a reminder of just how much God loves and cares for us.

I typically don't read devotionals. I'm never able to maintain the whole day to day readings. I like to get engrossed in a book and that's not possible with a devotional. But I still found it very enjoyable and encouraging. If devotionals are your thing this just may be the one for you.

Every entry starts with a Bible verse and ends with a short prayer or affirmation.

The book is a purse sized hard bound book that is just beautiful. There is even a a little page marker "built" or sown into the book. I just found it to be beautiful.

If you are looking for a devotional to read during your private time with God, before prayer or Bible study, this little book is for you. I really believe that you will be blessed by it as I have been.

I give this little book 3 stars.

Copyright © 2011 Haneefah. All Rights Reserved.

I am a member of the Tyndale Book Review Program. I received a copy of this book free of charge in order to review it. I was not paid for this review. I also was not required to give a positive review, but to give my honest opinion of what I felt about the product. I am disclosing this in accordance with the Federal Trade Commissions 16 CFR, Part 255. Whether positive or negative, this is my honest opinion of the product.