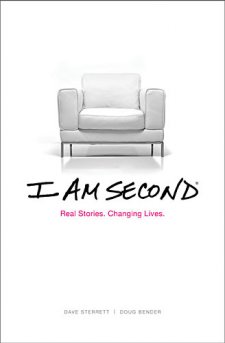 I Am Second by Doug Bender and Dave Sterrett is a book about learning what it means to really put God first. This is a really good book that everyone should read. It is filled with real life stories from known celebrities and the everyday people who have come to the end of themselves through the facing of incredible struggles. From drug addiction, porn addiction, prostitution, racism and more, the men and women featured in this books pages have learned that in order to find healing, lasting change, real hope, joy and peace is to give it all to God and become Second to Him.

Self-sufficiency will only take you so far. To have true success in life and over trials and struggles is to trust the One who has the real power to change things – God, and to cease trying to be first, or give up putting others and things first and become Second to God. Only in putting God in His rightful place of being first in their lives could they overcome.

People can change no matter the struggle or how far they have strayed away from God. Maybe they never knew Him, but when they come to Him He can make all things new. But we must surrender to Him, and lay down our problems, addictions, idols, and self-destructiveness down.

All of the stories are true. From Michael W. Smith and the overcoming of his drug addiction, to Nate Larkin the porn addicted Pastor, Brian "Head" Welch, Karen Green and her journey out of drugs and prostitution, all of these individuals learned that to overcome and be free they must become give their lives to God and become Second.

If you are struggling in your life or know someone that is this book "I Am Second: Real Stories. Changing Lives.
" will give you the encouragement you need to persevere. I would encourage to read this book. I have been deeply encouraged and I am very happy to have this book in my collection. This isn't a book of flimsy, superficial stories. This is a book about real people with real struggles. You won't know everyone. But their stories will touch you. By the end of this book, just like the people in this book, you will also be proud to proclaim "I Am Second."

Pick up your copy of "I Am Second: Real Stories. Changing Lives.
" today. I give this book 4 stars.


Haneefah Turner Copyright © 2012 All Rights Reserved. Please do not copy or distribute this article/post without my express written permission. Thank you.


I am a member of the Thomas Nelson Book Review Blogger Program "BookSneeze". I received a copy of this book free of charge in order to review it. I was not paid for this review. I also was not required to give a positive review, but to give my honest opinion of what I felt about the product. I am disclosing this in accordance with the Federal Trade Commission's 16 CFR, Part 255. Whether positive or negative, this is my honest opinion of the product.