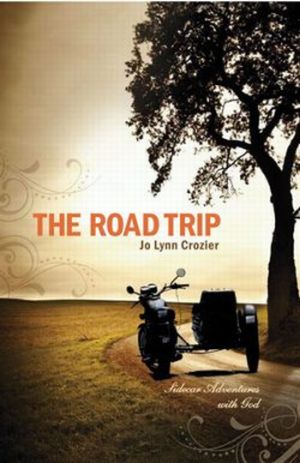 The Road Trip is a cute adventure story about a woman named Liz who gets the chance of a lifetime: the opportunity to travel with God on a road trip (in a sidecar no less) that would completely change her life. During her travels with God Liz learns that she didn't know all that she thought she did about what it really means to be a Christian, God Himself, or the world in which she lives. But through their journey together God opens Liz' eyes and brings her to a deeper understanding of her faith and how to live it out properly.

During the course of the journey Liz encounters some fantastical creatures, places and things, as she gains greater wisdom with God by her side, including Angels, a cute Bumblebee named Beatrice, Wisdom and Virtue, Love, along with so many others.

I thought that this was a great book. I was reminded of John Bunyan's "The Pilgrims Progress." But "The Road Trip" isn't hardly a "Pilgrims Progress" clone. It is its own wonderful story with plenty of life applications threaded throughout so that you learn how to apply what you learn along with Liz to your own life.

This book is deeply encouraging and challenges you to go deeper with God and strengthen your personal faith walk. It is funny, thought-provoking and creative. My favorite chapters in the book are First Stop: Comfort Zone, Into The Gardens of Humanity, The Dark Place, Two Bees and Not Two Bees, where you'll meet Beatrice the Bumblebee and It's the Pit's. You will learn so much. Especially why it's important to allow God to take the wheel and guide your life and stay "in your lane" which means to stay in the will of God for your life.

Jo Lynn explains the basic tenets of the Christian faith in a way that is easy to understand for the baby in Christ and for those who don't yet know Him. Yet, is still beneficial for those that have served God for years. This book is for everyone.

Jo Lynn Crozier has written a book that I believe you will enjoy. It's message is clear and will touch you deeply. The Road Trip is worth checking out. I know that you will enjoy it and be blessed by it. I know that I was.

I give "The Road Trip: Sidecar Adventures With God" four stars!


Haneefah Turner Copyright © 2012. All Rights Reserved. Please do not copy or distribute this article/blog post without my express written permission. Thank you.


I received a copy of this book free of charge from Shelton Interactive to review it. I was not paid for this review. I also was not required to give a positive review, but to give my honest opinion of what I felt about the product. I am disclosing this in accordance with the Federal Trade Commission's 16 CFR, Part 255. Whether positive or negative, this is my honest opinion of the product.