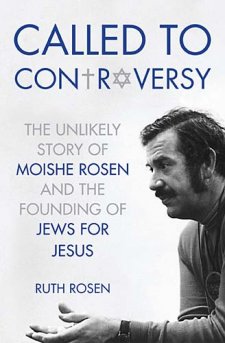 "Called To Controversy" by Ruth Rosen tells the story of Ruth's Father Moishe Rosen and the founding on the ministry Jews For Jesus. This Autobiography/Biography tells the story of how Moishe, a Jew, came to know the Lord and how God led Him to spread the Good News to the Jewish people and ultimately created the ministry Jews For Jesus.

I was very much looking forward to reading this book. I've known about Jews For Jesus for many years. I've even read some of the free ebooks on the site that tell the stories of Jews that came to know Jesus and finally accept that He is indeed the Messiah that they have been looking and waiting for.

Many people don't believe that Jews need to come to Christ. It's a common belief that because they are God's chosen people they are automatically saved. But the truth is that even Jews are lost without Christ and must choose to follow Him just as Gentiles (non-Jews) do.

God put a fire in Moishe's heart to help lead His people to Him and Moishe was faithful. Even risking his life, and being disowned by his family to proclaim Christ to God's Chosen people, the Jews. Many Jews are afraid to come to Christ. They've been mistreated by so many who have claimed to be Christians (including Hitler who most definitely NOT a Christian, no matter what he claimed) that many Jews believe that Jesus can't possibly be the Messiah.

They also believe that you can't be a Jew and be a Christian. To become a Christian is to lose their Jewish identity which is far from the truth. But Moishe dedicated his life to showing the Jewish community that Jesus is indeed the Messiah, even though it meant persecution from the Jewish community and even an outcast in his own family.

This is a must read for everyone. God took this man who had nothing and through him, spearheaded a movement all around the world. If God can use this man He can use any of us. Moishe was just like us. Just your everyday human being, with a stutter at that. But God used his life to help bring his people to Him. I love that. It may even inspire you to pray more for the Salvation of the Jewish people.

If you love the Jewish people like I do, or you just love a good story or both, buy this book. It will inspire you to do even greater things for God. God can use you if you'll let Him. There is no one that God can't use for His glory. Enjoy this story of Moishe Rosen's life and the Jews For Jesus Ministry, and how God took this average, humble man and Called Him To Controversy.

Buy this book today. I give this book 4 stars.


Haneefah Turner Copyright © 2012. All Rights Reserved.


I am a member of the Thomas Nelson Book Review Blogger Program "BookSneeze". I received a copy of this book free of charge in order to review it. I was not paid for this review. I also was not required to give a positive review, but to give my honest opinion of what I felt about the product. I am disclosing this in accordance with the Federal Trade Commission's 16 CFR, Part 255. Whether positive or negative, this is my honest opinion of the product.