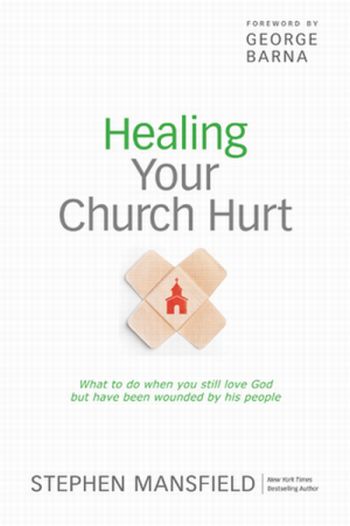 Healing Your Church Hurt: What To Do When You Still Love God But Have Been Wounded by His People
by Stephen Mansfield is the perfect book for any Christian that has ever experienced "Church Hurt." If you have ever been so hurt and wounded by the church, or know someone who has, that you felt that you couldn't possibly go back, this book is for you.

The author experienced such a deep hurt himself, when after having been a pastor of a church for twenty years, he was deeply betrayed. Perhaps you've experienced something similar. Maybe you were sick and in need and the church abandoned you. The Pastor had an affair. You were the victim of extreme and hateful gossip. No matter what brought it about you were hurt and now you feel as if you can never go back to the church.

Healing You Church Hurt will help you find the healing you need so that you can find a new church home without fear of being hurt again. You will also learn to forgive those that have hurt you.Stephen will help you find healing, forgiveness, and show you the tactics Satan uses to keep God's people out of the church.

You don't have to hurt forever. You can find healing. And this book Healing Your Church Hurt: What To Do When You Still Love God But Have Been Wounded by His People
," with lots of prayer and people that love you, will help you find it. It's time to let the pain go and move on. Don't continue to allow the Enemy to keep you from serving God and His people. God will give you the grace to move forward but you have to open your heart and trust Him.

Healing your Church Hurt by Stephen Mansfield will help you on your journey to wholeness. I give this book 4.5 stars.


How To Enter The Book Giveaway


To enter to win the book "Healing Your Church Hurt" simply "Follow" me on Twitter or "Like" me on Facebook. ReTweet this post on Twitter and "Share" on Facebook using the buttons at the bottom of this post or in the toolbar below, and add a comment below telling me of a time you were hurt by the church and why you should be the winner. The Giveaway will end Friday April 6, 2012 Midnight PST. The winner will be contacted by email. The winner will have 24 hours to respond and claim their prize. Be sure that the email you sign up to comment with is correct. I will be using it to contact you on your win and to find out where to send your book certificate which is being provided by Tyndale House Publishers. If your name and email address is incorrect you will forfeit your win and another participant in the giveaway will be chosen. No exceptions!

Once the winner has been reached they will be announced here on the ReflectionsOfAQueen.com blog. The winner will receive one (1) certificate for the book which expires May 31, 2012, and is redeemable at any Christian Bookstore or directly from Tyndale House Publishers. Redeem on or before certificate expiration date. Winner instructions are also included on the back of the Healing Your Church Hurt Book Certificate which is being provided by Tyndale House Publishers.


You must be 18 or older to enter. The contest is open in the United States only. No international entries please. You do not need to purchase anything to enter. Void where prohibited by law. Any and all taxes that may be associated with this win/prize is the responsibility of the winner where applicable. By entering this contest, you are agreeing to the terms of entry, and that you have read the above Official rules and agree to them.


To read the First Chapter of the book now just click the link here to download: Healing Your Church Hurt Excerpt.

or to view it online click here: "Healing Your Church Hurt Chapter One Online."

To learn more about Stephen Mansfield you can visit his website by clicking this link: Stephen Mansfield Website. And his Facebook page here: Stephen Mansfield on Facebook.


Thank you for visiting me and for commenting. Lord bless you all!


Haneefah Turner


I received a copy of this book free of charge from Tyndale House Publishers in order to review it. I was not paid for this review. I am also not required to give a positive review, but to give my honest opinion of what I felt about the product. I am disclosing this in accordance with the Federal Trade Commission's 16 CFR, Part 255. Whether positive or negative, this is my honest opinion of the product.