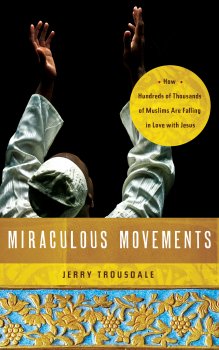 Miraculous Movements by Jerry Trousdale is full of true stories of how God is moving in a big way in the Muslim community. Hundreds of thousands of lives are being changed as the truth of Jesus Christ is changing their hearts.

Armed with nothing but scripture, Christians, most who themselves are former Muslims, are going into staunchly Muslim communities and lovingly sharing the Gospel of Jesus Christ within the Muslim community. Often at the risk of their very lives. But their love for the people and the calling of God on their lives compels them in spite of the risks.

In Miraculous Movements you will learn how to share the Gospel effectively, how to reach out to the Muslim Community and disciple the new Christians effectively.

I enjoyed learning about how CityTeam International is effectively bringing thousands to Christ in Africa and discovering how God is moving in beautiful ways there. I believe that this books will be an encouragement to many and will show you how to be more effective in sharing the Gospel with both Muslims and Non-Muslims alike where you live.

I give this book 4 stars


I received a copy of this book free of charge from the Thomas Nelson's Book Sneeze in order to review it. I was not paid for this review. I am also not required to give a positive review, but to give my honest opinion of what I felt about the product. I am disclosing this in accordance with the Federal Trade Commission's 16 CFR, Part 255. Whether positive or negative, this is my honest opinion of the product.

If you like this review, have experience ministering to non-believers, are standing in prayer for non-believers or have read the book and would like to join in the discussion, please leave a comment below. Your comments are both welcome and appreciated.

If you feel this review would be of interest to others please share it on Facebook, Twitter or other social networks. Also "Like" my page on Facebook!


Lord bless you,

Haneefah Turner


Copyright © 2012 Haneefah Turner. All Rights Reserved.