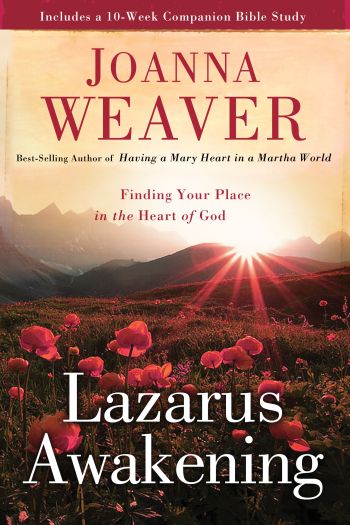 Most people that come to Christ know that God loves them. They even believe what His Word says about Him loving the whole world. But sometimes it's hard to get that head knowledge to find it's way into our hearts, and believe in the deepest part of themselves, deep down in their hearts, that God loves them with all of His.

Lazarus Awakening by Joanna Weaver tackles this very subject. In Lazarus Awakening Joanna shows women how to have a truly intimate relationship with the Lord Jesus Christ, and how to stop trying to work for His love.

Using the story of Mary, Martha and their brother Lazarus in a unique way, Joanna shows women that Jesus loves us all apart from anything that we can do or say. That you don't have to work for His love. You already have it. You just need to believe it and accept it.

To help you on your journey to live fully for Jesus and experience His love on a deeper level, there is a Bible study guide, a bonus chapter and tools and resources as you walk out your journey and start living in light of eternity.

It's your typical self-help book wrapped up with a Christian bow. There is a lot to learn and much that you may have read before. It was very slow paced for me. Of course it is a non-fiction book, but I wasn't really gripped by it. Maybe the subject matter was just too heavy, but I just wasn't pulled in.

There is a section in the book where Joanna stated that when Jesus called Lazarus to come out of the tomb, Lazarus had to choose whether he would listen to Jesus and come out or not. Really? I don't think so. I've never heard anything like that before and I don't agree with that at all. You are dead and the God of Heaven, Earth and all that is within them has called you forth from the grave and you have a choice to obey or disobey? You have to think about it? That's some funky theology that I don't agree with at all.

Yes, we choose whether we will obey in regard to our Salvation, whether we will he heed His call or not. But, when God calls you out in that manner from your grave you come out. There is nothing to think about. When the ruler of the synagogue, Jairus came to Jesus because his 12 year old daughter was sick, and and someone else from the synagogue came to tell Jairus that his daughter died, Jesus went to see the girl anyway. When He went to her He told her to rise in Mark 5:41-42 KJV and she arose straight away and started walking around. There was no choice. Jesus called. She got up and walked. End of story.

Perhaps she said that as an analogy/allegory type way. But I was aggravated by that because if you are not well versed in the Word of God you could be steered in the wrong direction and fall into some bad theology for taking a verse out of context.

Outside of this there is much to be learned. And if you are struggling in your relationship with the Lord, and struggling with feeling loved by Him and want to grow closer to Him, this is the book for you.

I give this book 3 stars


If you have read this book and and liked it or disliked it share your comment below. If you haven't read it yet, but intend you and you would like to comment about the review, comment below. I appreciate, read reply to all comments.


Lord bless you,

Haneefah Turner

Copyright © 2012 Haneefah Turner. All Rights Reserved


I received a copy of this book free of charge from WaterBrook Multnomah Publishers in order to review it. I was not paid for this review. I am also not required to give a positive review, but to give my honest opinion of what I felt about the product. I am disclosing this in accordance with the Federal Trade Commission's 16 CFR, Part 255. Whether positive or negative, this is my honest opinion of the product.