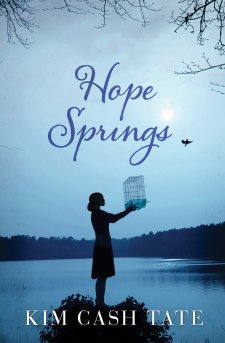 Hope Springs is another gem written by author Kim Cash Tate. Hope Springs tells the story of Janelle Evans, Becca Anderson and Stephanie London and how their lives are forever changed when after they are brought together through tragedy.
Hope Springs is book three in a series which includes the books
Faithful
and
Cherished
. You should definitely check them out as well.
When Janelle Evans visits her Grandma Geri during the Christmas holiday and learns that she is extremely ill she decides to stay and take care of her, even though she was reluctant to return to her home town that she had been absent from since her husband died. Janelle soon finds love again. But is it meant to be?
Becca Anderson, a respected Bible teacher in her community, is finally getting to where she wants to be in her ministry. When an opportunity comes along to speak at one of the biggest Christian women's conferences, Becca is less than thrilled when it seems as if God is calling her husband to become a Pastor. Will her husbands calling get in the way of her own dreams?
Stephanie London the self absorbed wife of a doctor is living what many would consider a great life. Pushed into visiting Hope Springs by her Father to pay respect to a family friend that has passed, her life takes an unexpected turn when, after her cousin Janelle decides to stay in Hope Springs to care for Grandma Geri, Stephanie feels that God is telling her to stay as well. Unbeknownst to Stephanie her life is about to change forever in ways she never expected.
I LOVED this book! I am a huge Kim Cash Tate fan. I was so sad to see the story end. Kim knows how to tell a great story. My favorite character by far was Janelle, but I also loved Grandma Geri who reminded me of my Grandmother, and I was impressed with Stephanie's growth since the book Faithful. I also appreciated the fact that Kim kept God at the forefront. This book is very Christian. Nothing is watered down. But I believe that anyone will enjoy this book as the themes are universal.
Sometimes the hardest thing any of us have to do is let go. And each character had to learn how to let go in order to grow and change and become closer to God, and even to find themselves. Through their hopes and fears, need for healing and the overcoming of racial barriers in and outside of the church, these women soon discover a mighty plan that God has for each of them.
I can't recommend this story enough. Get your copy of Hope Springs today. You will not regret it. I give this book five stars.
Lord bless you all,
Haneefah Turner
Copyright © 2012 Haneefah Turner All Rights Reserved
I received a copy of this book free of charge from the Thomas Nelson's Book Sneeze in order to review it. I was not paid for this review. I am also not required to give a positive review, but to give my honest opinion of what I felt about the product. I am disclosing this in accordance with the Federal Trade Commission's 16 CFR, Part 255. Whether positive or negative, this is my honest opinion of the product.