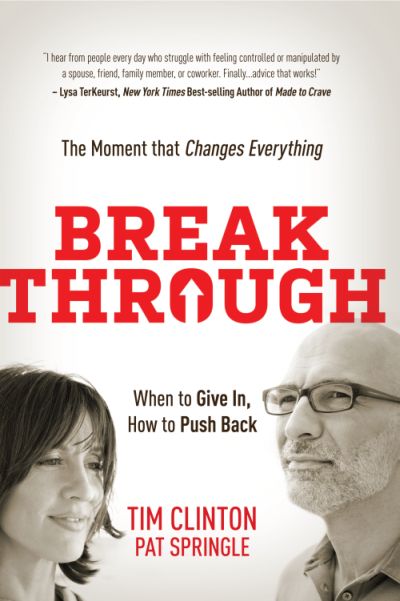 Enmeshment poses as love but it actually feeds an empty heart at another's expense. – Break Through Page 155
Your breakthrough demands moving beyond anything that is keeping you in bondage. – Break Through Page 156
To find the right balance of responsibility, some of us need to say less, some need to say more; some need to sit down, some need to stand up; some need to say no, some need to say yes. – Break Through Page 190
Crises seem utterly cataclysmic. The heartache and darkness of a crisis can be overwhelming, but God is the master of turning mourning into dancing, and darkness into light. If we step back, we might catch a glimpse of what He sees. – Break Through Page 248-249


Break Through: When to Give In, How to Push Back
by Tim Clinton and Pat Springle is the book for everyone dealing with difficult relationships. Sometimes it's hard to let go of relationships and behaviors we know are bad for us. From dealing with manipulative parents or spouse, a loved ones addiction, a demanding boss, irresponsible siblings, it can be hard to breakaway and be free.

You may even free guilty about breaking free, even when you know it's in the best interest of your mental, emotional and even physical health. Something has got to give. It's time to learn how to develop boundaries and learn when to say no without fear or shame, stop being a people pleaser, rescuer, fixer, control freak and all around doormat. It's time to live the life God has called you to live and become emotionally healthy and whole.

But it's a hard road. Instead of letting go we make excuses for ourselves and all others involved. It's time to learn how to set boundaries. Break Through: When to Give In, How to Push Back
by Tim Clinton and Pat Springle will teach you what you need to know to break free and breakthrough the destruction and negativity and develop healthy relationships.

Learn How To:( A short quote taken from the book)
Identify why you gravitate toward certain relationships, and why you stay
Discern the warning signs of an unhealthy relationship
Live within your limits, and help others to do the same
Redefine love, trust-and your responsibility to the people you care about
Learn which choices and behaviors cause relationship troubles
Experience the power and freedom of forgiveness

(Scroll down to learn how to win a free copy of this book, and to download a free sample chapter, audio interview with the author Tim Clinton, and watch a short author video by Tim Clinton)

I enjoyed Break Through: When to Give In, How to Push Back
. I believe that everyone can benefit from it. We all have at least one relationship that is not as it should be. That one person that we're constantly making excuses for. Many of us are bound up in codependent and enmeshed relationships without realizing it or unaware of how to be free. Our boundaries are weak or non-existent and people are allowed to get away with things that they shouldn't because we've put them in a place in our lives where God belongs.

Tim Clinton and Pat Springle give clear directions on what it takes to set boundaries and develop healthy relationships. And we are also reminded that change won't be easy. Not just because the steps to change are difficult, but because oftentimes those around us will not want us to change. Tim and Pat will give you the tools you'll need to confront those that want you to stay unwell.

You will learn valuable information on how to turn your life around from a biblical perspective. And while a book can never be a replacement for therapy, this is a good starting point. I can't say enough about this book. This book is easy to understand and will definitely help you work your way through any difficult relationship. Using stories and examples of real people you will learn how to Break Through and have the kind of love and relationships you deserve.

I give this book 5 stars.

Break Through: When to Give In, How to Push Back
is available at Amazon, Barnes & Noble and wherever books are sold.


Lord bless you all,

Haneefah Turner


Copyright © 2012 Haneefah Turner All Rights Reserved. Do NOT copy without my express written permission. Thank you.


About the Author of Break Through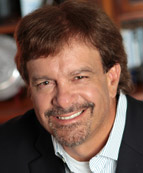 Dr. Tim Clinton, LPC, LMFT, is president of the nearly 50,000-member American Association of Christian Counselors (AACC) and founder of Light University Online, which has over 160,000 students enrolled. He is also the professor of counseling and executive director of the Center for Counseling and Family Studies at Liberty University.






Free "Break Through" Resources


Short Book Trailer of Author explaining what the book is about.




Right Click to download your Free Sample Chapter. (Scroll down to learn how to win a copy of the entire book)

Right Click To Download Free Audio Author Interview


How To Enter The Book Giveaway


To enter to win the book "Break Through" by Tim Clinton and Pat Springle simply add a comment below telling me why you should be the winner AND "Like" my Facebook Page. The Giveaway will end Friday July 8, 2012 Midnight PST. The winner will be contacted by email. The winner will have 24 hours to respond and claim their prize. Be sure that the email you sign up to comment with is correct. I will be using it to contact you on your win and to find out where to send your free book which is being provided by Handlebar Marketing and Worthy Publishing. If your name and email address is incorrect you will forfeit your win and another participant in the giveaway will be chosen. No exceptions!

Once the winner has been reached they will be announced here on the ReflectionsOfAQueen.com blog. The winner will receive one (1) book only.

You must be 18 or older to enter. The contest is open in the United States only. No international entries please. You do not need to purchase anything to enter. Void where prohibited by law. Any and all taxes that may be associated with this win/prize is the responsibility of the winner where applicable. By entering this contest, you are agreeing to the terms of entry, and that you have read the above Official rules and agree to them.

Thank you for entering. God bless you all!

I received a copy of this book free of charge from Handlebar Marketing and Worthy Publishing in order to review it. I was not paid for this review. I am also not required to give a positive review, but to give my honest opinion of what I felt about the product. I am disclosing this in accordance with the Federal Trade Commission's 16 CFR, Part 255. Whether positive or negative, this is my honest opinion of the product.

This post contains affiliate links.