Sheila Walsh's Gigi's Big Break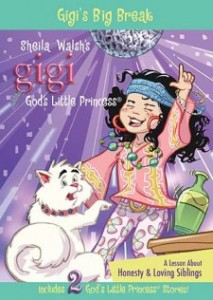 Gigi's Big Break was a wonderful DVD for young girls. Gigi's Big Break is based on the books Gigi, God's Little Princess, written by author, singer and former host of the 700 Club Sheila Walsh, and tells the story of  a young Christian girl named Gigi as she learns life's lessons and how to live for the Lord.
Each DVD contains two stories and is based on a Bible verse.
In the first video "The White Lie" after breaking a vase in the living room while dancing Gigi tells many lies to try to hide her crime as well as her guilt and shame. Gigi soon learns that it does not pay to be untruthful, and that to lie will always create more problems than it solves. It is a cute story about honesty and God's forgiveness. Based on 1 John 1:8-9.
In the second video "The Pink Surprise" all is well in Gigi's world until she finds out that her Mother is pregnant. Initially she is very excited until her young friends lead her to believe that siblings are nothing but a pain, and that her parents will not love her as much as before and will not want her any longer. Gigi comes to learn that parents have more than enough love for all of their children just as God has more than enough love for all of His, and  that to be first in life is not the most important thing in the world. That God has many more blessings in store for us than just being number one by the world's standards. She may not be able to claim all of her parents attention, but she is still very loved. Based on  Luke 10:21.
I liked this DVD. It was simple enough for a child to easily grasp, but not so syrupy that it would be unbearable for adults to watch. The stories were short and fast paced in order to keep the child engaged.
I personally found it to be highly entertaining and would recommend it to any parent looking for wholesome family entertainment that is not only fun to watch, but teaches children the will of God, how much He loves them, and the value he places in them.
I am a member of the Thomas Nelson Book Review Blogger Program "BookSneeze". I received a copy of this DVD free of charge in order to review it. I was not paid for this review. I also was not required to give a positive review, but to give my honest opinion of what I  felt about the product. Whether positive or negative, this is my honest opinion of the product.