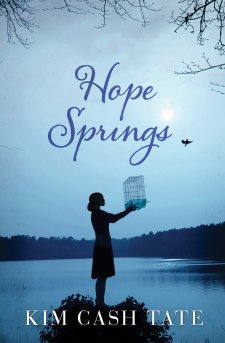 Hope Springs is another gem written by author Kim Cash Tate. Hope Springs tells the story of Janelle Evans, Becca Anderson and Stephanie London and how their lives are forever changed when after they are brought together through tragedy.
Hope Springs is book three in a series which includes the books
Faithful
and
Cherished
. You should definitely check them out as well.
When Janelle Evans visits her Grandma Geri during the Christmas holiday and learns that she is extremely ill she decides to stay and take care of her, even though she was reluctant to return to her home town that she had been absent from since her husband died. Janelle soon finds love again. But is it meant to be?
Becca Anderson, a respected Bible teacher in her community, is finally getting to where she wants to be in her ministry. When an opportunity comes along to speak at one of the biggest Christian women's conferences, Becca is less than thrilled when it seems as if God is calling her husband to become a Pastor. Will her
Continue reading